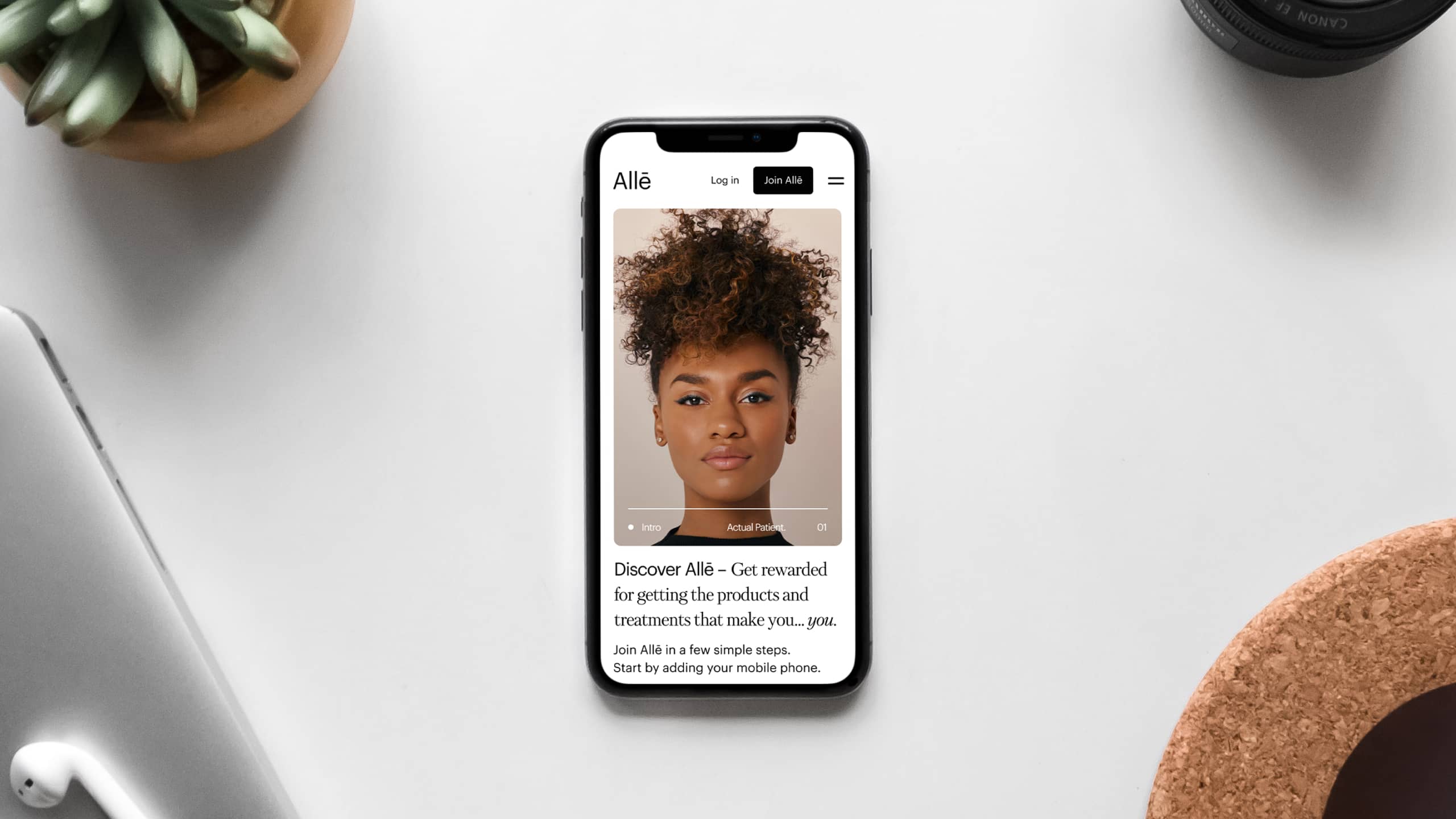 Allē

Redesigning a legacy product & brand for a new generation


Role:
Design Director + Designer

Project:
Digital Transformation & Re-platforming

Outcomes:
UX Design, UI Design, Brand Strategy,
Design System, Business Design, Product Development

Period:
2020—22


Overview
Allergan Aesthetics leads the medical aesthetics industry, but it's consumer loyalty platform and product, Brilliant Distinctions, was tired and built on a patchwork of technical infrastructure installed over a decade of iteration.
The business had an opportunity, and it needed to transform to be able to go after it.
Insights

93% of the total addressable Medical Aesthetics market is untapped.
Customer demand continues to outstrip supply and a
legacy industry infrastructure provides fertile ground for disruption.
Working in partnership with Allergan Data Labs (A-DL), we undertook a transformational approach to updating this legacy digital platform. The tech stack that underpins the product was completely overhauled, with a focus on data science and omni-channel personalization. In parallel to the technical and engineering transformation, we began working on a rebrand that would define a new, contemporary aesthetic for the organization.
The product suite comprised of a customer facing loyalty/booking platform and a client-side platform for managing aesthetic clinic workflows. The relationship is ongoing and the software is being iterated upon as we learn more from the data and usage.
︎︎︎
Allē.com
A New Identity
Allē was defined as a name, and a new identity and brand were developed. The Brand Identity and guidelines were the backbone, developed with a focus clearly on the user first, and with simplicity and style at the heart.



Design System
With the expansion of the Allē digital ecosystem, we were faced with the need for a design system that is easy to use, flexible across applications, and houses the brand styles and componentry in a globally consistent way. A cloud-based master component design library was built on the principles and methodologies of atomic design, setup with super-smart color, typography and effects styles. Allowing the team to change one style and apply changes to the entire library.




100's

Of components and variants
An atomic design system built to scale.

UX & UI
Pages, flows and prototypes
An extensive template library streamlining design to development workflows.
Styles
Design Patterns
Smart colour, typography and effects styles were setup for internal teams to use.
Design fast. Design consistently.
The design system alleviated us and the internal design teams wasting thousands of hours starting from scratch on every internal project. The Allē design system came packed full with everything needed to design modern and beautiful UI and software tools using Figma.



Building on new foundations
Reborn as Allē in the summer of 2020, the opportunity to scale far beyond simply a consumer loyalty scheme is significant.



For Consumers
The future of Allē is an integrated end-to-end consumer experience that allows members to find and book treatments, claim rewards, discover new innovations and manage their activity in one place.
Performance
3m+

Active Users
And continuing to grow

2.7m
Treatment Visits
More users, more treatments
1.8m
Gift Cards Purchased
Connecting a community


Studio: Bttr • ︎︎︎Allē.com